The Tickets section of an event is a required section. If you select "No" for tickets then no ticketing information will be needed. If you select "Yes", then you can add paid or free tickets.
We now supply ticketing on behalf of our publishers. You can also ask custom registration questions and collect payment for ticket sales for free via the Evvnt Ticketing service. For more information about the full suite of ticketing features, you can visit our Ticketing Help Center.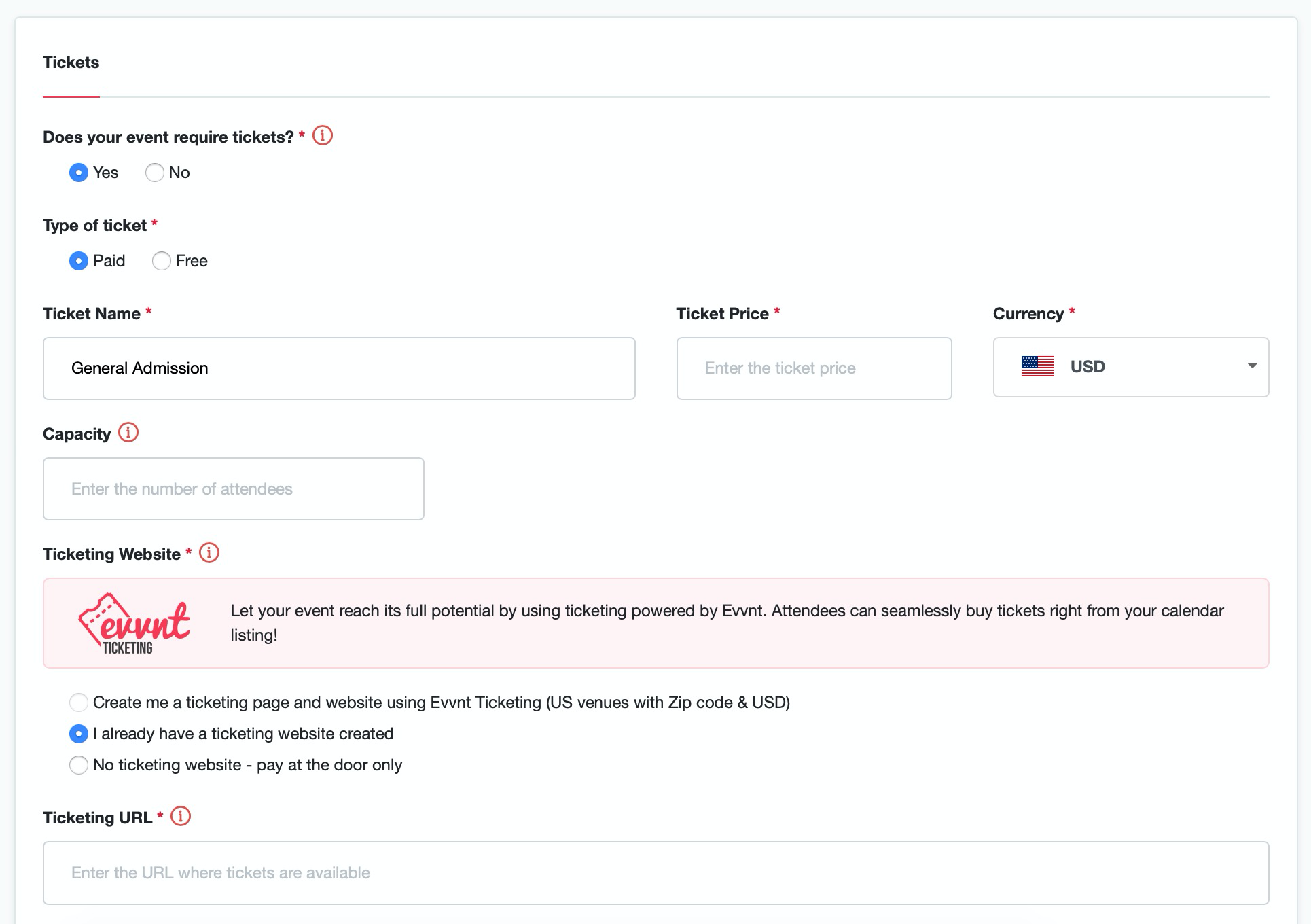 Adding Ticketing to your Event
When you select to have paid or free tickets listed with your event you will have the following options.
Create registration & Ticketing URL - Select this option to sell your tickets online with Evvnt Ticketing. This is currently a separate service that will generate a login for you once your create the event with this option selected. You can then enter your ticket prices and capacity. If you would like more advanced ticketing options, then find out what you can do next.


I already have my own ticketing URL - Select this option to enter a ticketing URL that you have already created for this event.


No Ticketing URL - Select this option if you plan to only sell tickets in person.
Fees
No fees need to be paid by the promoter or publisher for using our ticketing service. The fees are collected with every ticket that is sold at a rate of 4% of the ticket price + $1.50 per ticket + 2.5% merchant processing fee. Note: the 2.5% merchant processing fee is found by taking 2.5% of the value of the ticket price plus the percent and flat rate ticketing fees.

Attendees
If you are or even if you are not setting up tickets, here is where you set out your stall, with information on if you are offering tickets for the event, if it costs anything or if it's free to attend.
URLS
This is where you give us that important ticketing link so we can focus all marketing activities on it to create sales - If you have created ticketing then get the URL to the ticketed page and insert here.
Ticket Types & Prices
You can add one ticket type in the Quick Form. Switch to the "Advanced Form" if you have various ticketing types - such Adult, Child, or Early Bird. You can use this section to name the type, set the price and currency.
Capacity
What is your event capacity - how many tickets are we trying to sell.
We have more helpful insights on our blog for ticketing
Our Top 3 are