The option that will make your event a "Virtual Event" is the checkbox available in the "Event Location" section of the event edit page.
Q: Why a "location" is required when an event venue is virtual?
A: We need a location to know which calendar the event can belong to.
If you intend for the event to show in a local publication then you should set the location to that city.
Sites in our network will not accept an event that is not included inside an area they set for their site. When you check the "Virtual Event" box, the event will no longer ask for a physical address. It will, instead, ask for a city, state/province, zip/post code, and country. To ensure that your event is appearing on the appropriate calendars, we require that a virtual event has, at least, a city and a country entered for the location.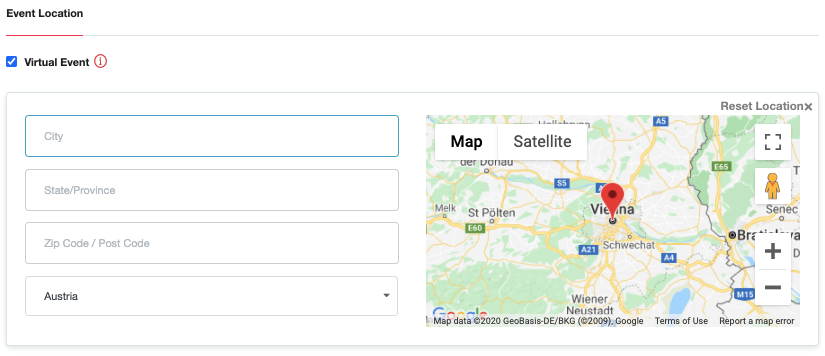 In most cases, event promoters will want to attract attendees for their virtual events that are located in their region with the goal of driving future in-person business with those attendees. However, there may not be one specific city for your event as presenters and attendees may be participating from different locations around the globe. Our recommendation is to set the city and country to a location that makes sense for your organization. Alternatively, we can recommend setting the city location to be one where you hope to have the largest number of potential attendees.
More FAQs
Q: My event has both physical and virtual locations. What should I do?
A: You cannot enter both physical and virtual locations. In this case you would be best served to provide the physical location and then note in the title, summary, or description that this event is also available virtually.