Post your event once to Evvnt and click to send it to dozens of sites.
Then, watch it skyrocket to the top of search results in a few days!
Images are a critical part of expressing the story about your event. We suggest uploading a minimum of three images in various shapes - Square, Landscape, and Portrait. You may be required to add an image to broadcast your event, though some calendars will allow submissions without an image. You can also edit the listing at a later date and add more images as needed.
The system will select the image that is the best fit for a particular location. See more about Image Size and Shape Recommendations. Most listing sites ask for various images for the search results and the details page. By providing images of different shapes & sizes, it gives the best possible chance of your listing looking as good as it possibly can on any of the sites in our network.
If an image is required and you do not have one, we recommending finding a royalty free image via this Google Image Search
How to Add Images
The "Quick Form" is the default event form and will only allow 5 images to be added. You can add up to a total of ten images in the "Advanced Form" using the button on the top left side of the submission form.
When viewing the "Images" section, simply grab any files from your computer and drag & drop them into the appropriate area. Any photos accidentally added may be removed from the listing by clicking the red "X" to the right side of the box for that image. You may add up to 10 images. The images are automatically saved to your event when they are added.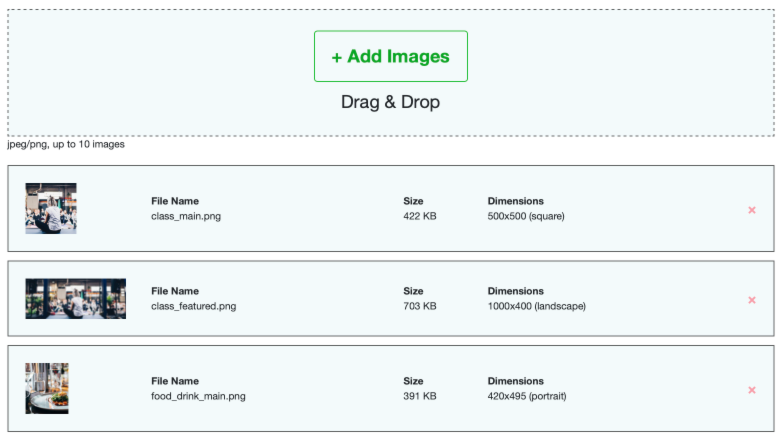 Images should be either .jpg or .png formats. Recommended sizes are based on what looks best on our calendars. All image sizes are accepted, but larger file sizes cause issues when attempting to syndicate an event to external sites. Please keep image file sizes less than 3 MB.