Welcome to your Evvnt Dashboard! Here you can manage all of the different events you have posted in our network of calendars.
Your Home Site
Your dashboard will have a logo and theme based on your home site, the site at which your account was created in the Evvnt calendar network. You can still post directly to any other Evvnt powered calendar with this account. If you would like to change your home site to a new calendar then you can submit a request in the top navigation here asking for the change.
Dashboard Tools
My Events

Clicking on "My Events" will show your active events. Here you can manage your events (edit, copy, or cancel) and you will have easy options to Upgrade to Premium or view the status of your promotion via the Report.
Use the different tabs to view any saved drafts or expired events.

Ticketing

Clicking on Ticketing will give you access to manage any ticketing pages you created for your events. Learn more about using Evvnt Ticketing to sell your event tickets online. Includes free access to use our mobile gate app to sell tickets and check-in pre-sale tickets at the door for your events.
Add a Package
Purchase event promotion credits in bulk or start a subscription for discounted rates. See more information about adding a package.
Add Event and Account Tools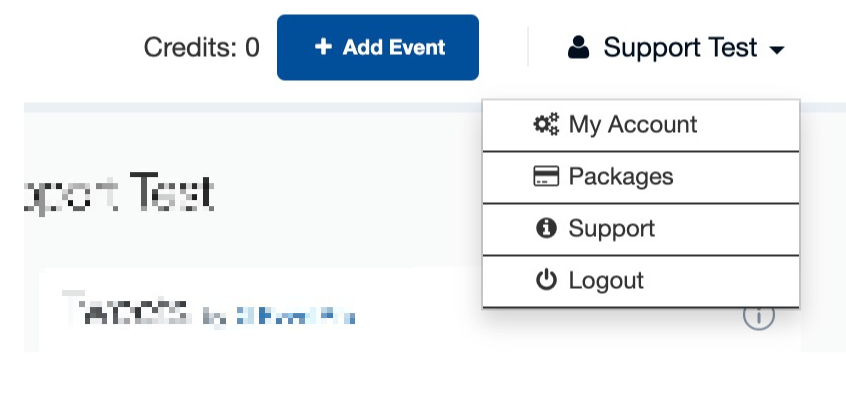 Click here to add a new event listing to the home site that owns your account.
NOTE: if you want to post to another calendar in our network that is not on your home site then do not add the event from your dashboard. To "Add an Event" a calendar that is NOT your home site: navigate to the other calendar's site and click on "+ Promote Your Event" on the calendar to which you want to post your event.
Account Tools
Click on your user name to expand your menu of account tools. Here you can:
Find the Support Help Desk
Logout