Our Journey
Evvnt started out as an event marketing tool, we evolved in to event discovery and have since acquired a ticketing company to deliver Ticketing, Marketing and Event Discovery. Our mission is to be the start point and the final destination for those running and attending events. Join Us.
Read about
Meet the Founder
Evvnt was formed in 2012 and the vision behind the company came from its CEO and founder Richard Green who identified a gap in the market to deliver affordable local event marketing globally including the United States of America.
Over the years we've faced many challenges but the words of Benjamin Franklin ring true today "Energy and persistence conquer all things"
Take a moment to meet Richard, understand the business and challenges and get a sense of the business goals that drive him and his team every day to make affordable local event marketing available to everyone, everywhere.
Introduction To Evvnt
An active CEO keen to express the needs of the industry and how change makes for a easier consumer experience to find and discovery events, listen to
The Problem in Event Marketing Today
For event organizers, events are hard to market as they're perishable - constrained by time and place. For every event there is a limited potential audience with shrinking attention span and an increasingly fragmented pool of sources of information. There are millions of events each year and competition is rife. Event marketing in the USA is a $10B industry and being seen is easier said than done.

How people find events
86% of people find events via a Google search and with thousands of event calendars to choose from which one is going to deliver you the results to ensure your event is full?
Event attendees are habitual creatures, and rely on longstanding brands to influence them on what's going on near them, including localized community sites that index exceptionally well in to Google
We're also finding that more than ever users are searching for events directly through search engines. The need for strong organic SEO is greater than ever with listing and influencer sites all battling for top spot.
Existing solutions are fragmented
Other advertising solutions often don't support the SEO benefits of event listings. Promoting events on Facebook or more traditional online display advertising will only get an event organiser so far. If you had a great solution and business model, how much money could you make?
To illustrate the problem, the chart below shows Google search trends from 2017 for four common event queries. According to Google, it seems that the Festivals and Things to do near me are top terms. However, at the state level, the terms become more complex. (Want to explore further? Click here).
The Solution
Imagine if you could submit an event once and get to every local newspaper, radio, tv and relevant online news publisher based on the category and location of your event... well now you can.

We are signing new publishers every day and our goal is to ensure an event once submitted gets to every potential consumer using a desktop, tablet or mobile device through news publishers, print and voice search.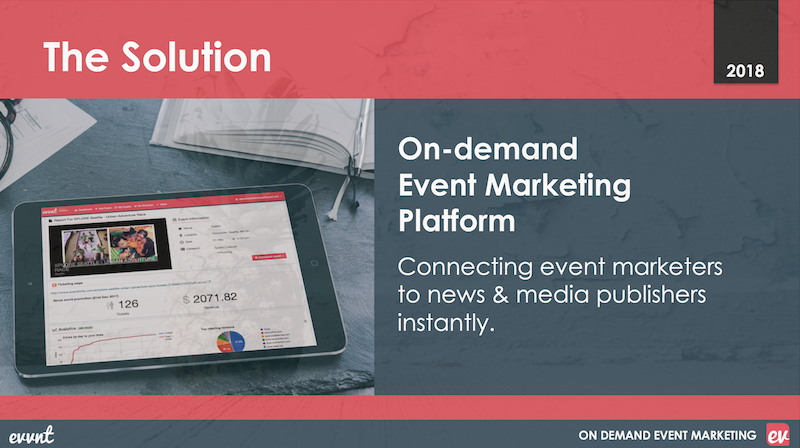 Today event promoters can via the Evvnt platform access 98% of the worlds event listing sites and calendars from a single submission - reaching local communities, search traffic, event consumers as they look for cool local events.
Evvnt ensure you are seen.
How We Are Planning For Success
An introduction in to how we work
We've designed a simple turnkey solution for
News & Media Publishers

Ticketing Companies

Listing Sites

Magazines

Blogs
By making it simple for a site to host best-in-class event discovery experiences we've been able to drive local and category specific content in to the heart of local communities and, at the same time, create a new revenue stream for publishers.
Through direct plug & play tools to data APIs, our solutions can help sites of all sizes get set up with high quality targeted events content. Through our existence we've learned what makes a successful event listing, and how to make the event submission as smooth and fun as possible.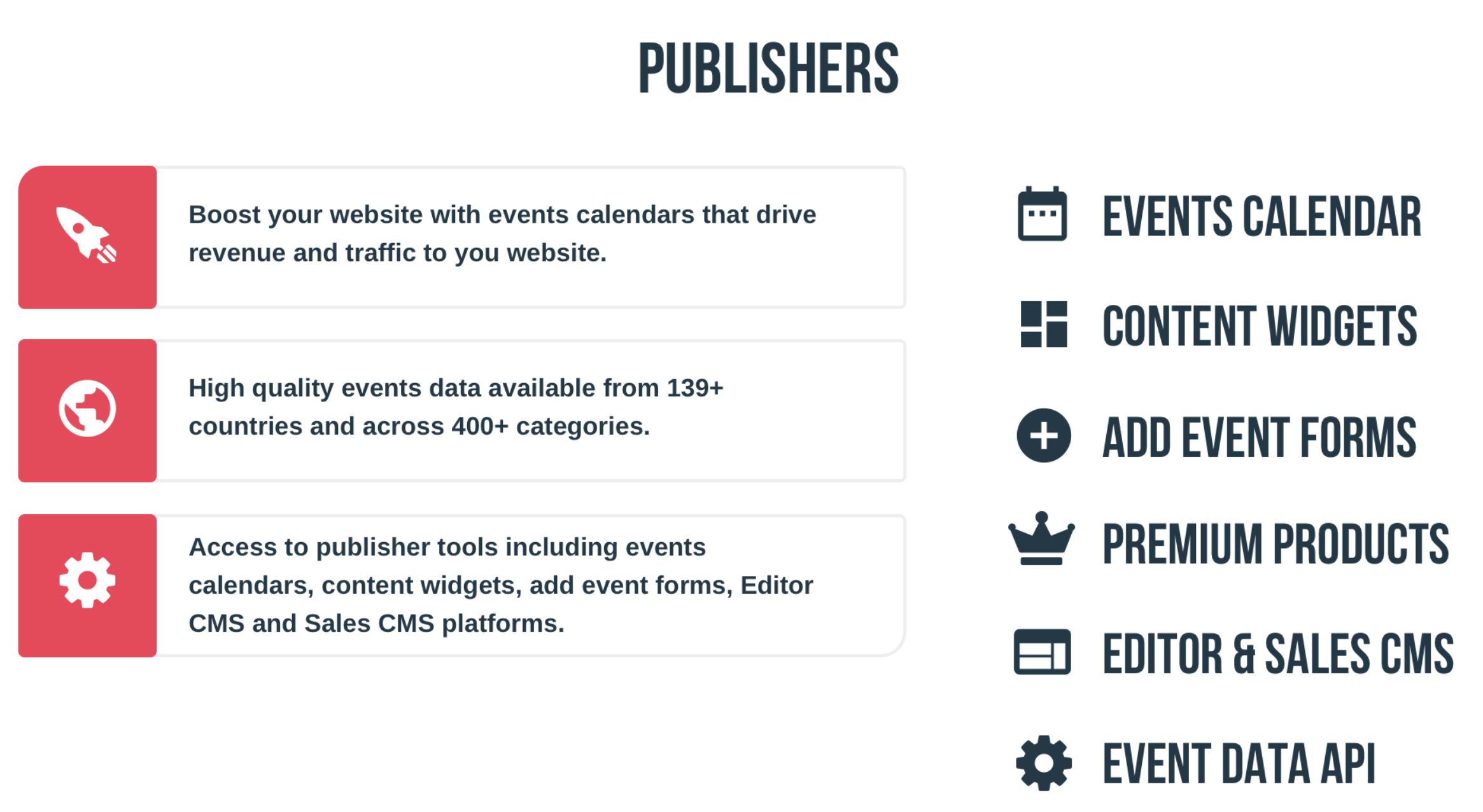 The Fundamentals
The fundamentals of our solution distills down to a few core components.
Event Discovery - Calendar & Content widget
Powered by data, an events calendar to discover targeted events

Local Events Widget that sits alongside your content pages.
Event Submission - Add Event Form
Our event form allows community submissions (UGC - User Generated Content)
Event Distribution - Evvnt Premium Network
Our network of 3,500+ targeted sites is available to event organisers
Featured placement on your site.
Print Ready Event Listings
Reverse Publishing to Print
Events to Voice Search in partnership with SpokenLayer
Events Calendar & Publishing tools.

Event Premium thats affordable and that works.

Edito CMS controls and moderation

Sales CMS turning events into qualified leads

API Access for integrations