Our online subscription packages allow you a regular amount of credits to promote your events. Each month your credits will be replenished. Typically, these are the best value per credit among all packages.
The number of credits you have and when they replenish is determined by when you first purchased the package.
Checking Your Package
You can check your package by visiting the My Account section and viewing the Packages page at https://app.evvnt.com/packages.
Each package associated with your account is itemized here.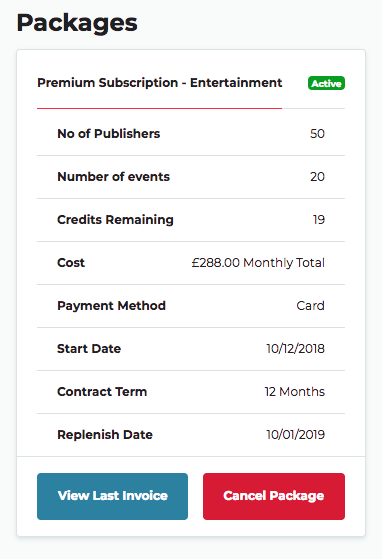 How Many Credits Do I Have Left?
The "Credits Remaining" field will show you how many events you have left in your current cycle.
This should also be visible in the main navigation when logged in.
When Do I Get New Credits?
The "Replenish Date" shows when new credits will become available. This is linked to the initial day you purchased your package, and not linked to the calendar month.
Do My Credits Roll-Over?
Credits from month-to-month subscriptions don't currently roll-over.
How Do I Cancel A Subscription Package?
Using the "Cancel Package" button on the Packages page is the best way to submit a cancellation request. If you have any further questions regarding your event credits, do not hesitate to submit a support request to our Client Services Team.